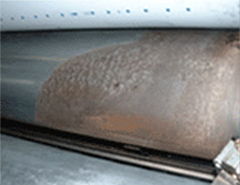 SARAS can repair damages to printing cylinders caused by screws, allen keys, ball bearing damage due to break up of damper bearings, low areas caused by sheet jams and lock-up edges damaged by mis-aligned grippers. Corroded cylinders can also be refurbished. After mechanically removing any surface rust these are first treated to suppress the corrosion using a proprietary Saras inhibitor and then plated back to the original cylinder surface dimensions.
Repairs can be carried out on all types of presses from single colour sheet fed to multi-unit litho presses, web presses, flexographic presses and drums, cylinders and calendar bowls for the extrusion, coating, metallizing, laminating and converting industries.
These repairs are carried out on customer premises without the removal of cylinders and the only strip down being the removal of guards and trays where necessary.
The SARAS customer base for these repairs includes; General Printers, Newspaper Printers, Magazine and Book Printers, Packaging Printers and many more.